SAORI and Bengala Dye Brings Everyone SMILES!
CONTACT: 952-393-7985/chiakiobrien@gmail.com
SAORI and Bengala Dye distributor in the U.S.
Would you like to try SAORI Weaving/Bengala Dyeing?
Please call or e-mail me for scheduling. I do off-sites (depends on the area) as well.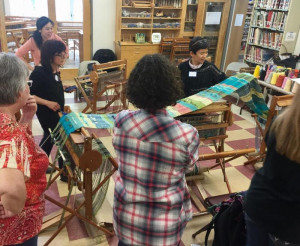 Chiaki–"Reveal Time!!"
Everyone–"Wow", "Wooooo!!"
(@Weavers Guild of MN class)
NEWS!!


Chiaki was on MNOriginal(tpt Twin Cities) on Feb. 19(Sun) 
"When she emigrated from Japan, Chiaki O'Brien brought her skills in Saori weaving with her to Minnesota. Since moving to the US in 2004 Chiaki has shared this unique form of weaving with hundreds of people, which has allowed her to create many connections in her new home."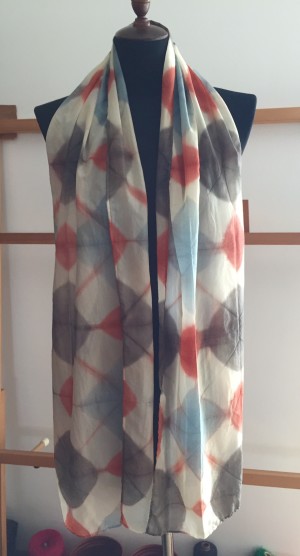 SAORI and Bengala Dye classes off-sites schedule 2017
August 6(Sun)10-noon Intro to SAORI @Great Makers Exchange @American Swedish Institute–FULL
August 16-18(Wed-Fri) Michigan Fiber Festival  All classes FULL
August 22(Tues) 2 Bengala Dye classes @White Bear Center for the Arts
August 26 (Sat) 9-1pm SAORI class @ Arboretum
August 30(Thurs) Bengala Dye class 6-8pm @ Wescott Library in Eagan
Sept. 8-10,  2 SAORI classes and 2 Bengala Dye classes @Wisconsin Sheep and Wool Festival     
(SAORI classes are FULL)
Sept. 23-24 SAORI and Bengala Dye classes at North County Fiber Fair, SD
Sept. 29 (Fri) Try It! SAORI Weaving @Weavers Guild of MN
Oct.14-24 Textile Tour in Japan (Osaka, Kyoto and Okayama) —FULL

SHORT FILM "SIX LADIES WEAVING" 
A 5 minute film about six ladies I work with through SAORI Weaving.
We received a honorable mention from ReelAbilities:Minneapolis-St. Paul Disabilities Film Festival.

================================================================
Studio FUN Offers:
Regular classes
Intensive courses
Birthday parties (Yes! There is a place to do fun Birthday parties in Carver County! Weaving party or Bengala party?)
Summer Camps / Seasonal events
Off-site workshops / demonstrations
Drop-in lessons (Trial)
SAORI instructor training
Artists in Residency (We are one of the teaching artists for VSA Minnesota for SAORI)
We are the SAORI authorized dealer for SAORI looms, books, and equipment.
Call and reserve a studio right now. 952-393-7985
SAORI Free-Style Weaving Studio "FUN" is an authorized SAORI looms and accessories dealer of SAKAI Seiki Sangyo Co. Ltd. Osaka, Japan.