SAORI Brings Everyone SMILES!

COME WEAVE AND DYE WITH YOUR FAMILIES AND FRIENDS.
CONTACT: 952-393-7985/chiakiobrien@gmail.com

Thank you so much for Blake School to have me as a resident artist for the school year of 2015-16.
It has been wonderful experience for me. I hope the students feel the same.
Here is a Sun Sailor article from the High Croft Campus local paper in Wayzata, MN.
WE LEARNED TOGETHER AS A GROUP.     WE WERE IN A MOMENT.
WE HELPED EACH OTHER and WE HAD SO MUCH FUN!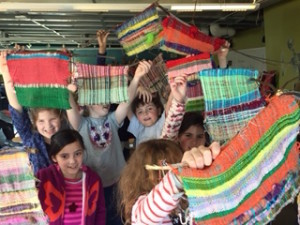 SAORI and Bengala Dye classes off-sites
April
April 11-15  Hillcrest Community School SAORI Residency
April 23(Sat) Bengala Dye workshop in Maplewood Community Education (Page 15)
April 27 (Wed) SAORI class with 3rd graders at Waldorf School in Minneapolis
April 30-May 1 SAORI workshop @ Duluth Fiber Handcrafters Guild
May
May 3 (Tue) Try It! Bengala Dye @Weavers Guild of MN
May 13-15 Shepherd's Harvest Festival in Lake Elmo, MN (SAORI classes are sold out)
June
June-July SAORI weekly sessions at an independent living in Maplewood, MN
June 11-12 Bengala Dye classes at Iowa Sheep and Wool Festival
June 17 (Fri) Bengala classes at White Bear Center for the Arts Bengala
June 20(Mon) Teaching @Textile Center Summer Camp
July
July 6-8 Teaching @Textile Center Summer Camp
July 23 (Sat) SAORI class at White Bear Center for the Arts SAORI
July 30 (Sat) SAORI class @Minnesota Landscape Arboretum
August
Aug. 17-18 Michigan Fiber Festival Workshop
Aug. 22-26 @Textile Center Summer Camp
September
Sept. 10-11 Wisconsin Sheep and Wool Festival
Sept. 17-18 North Country Fiber Fair
Studio FUN is the authorized SAORI Weaving distributor and Bengala Dye Distributor in the U.S.
—————————————————————————————————-
SHORT FILM "SIX LADIES WEAVING" 
A 5 minute film about six ladies I work with through SAORI Weaving.
We received a honorable mention from ReelAbilities:Minneapolis-St. Paul Disabilities Film Festival.

================================================================
Studio FUN Offers:
Regular classes
Intensive courses
Birthday parties (Yes! There is a place to do fun Birthday parties in Carver County! Weaving party or Bengala party?)
Summer Camps / Seasonal events
Off-site workshops / demonstrations
Drop-in lessons (Trial)
SAORI instructor training
Artists in Residency (We are one of the teaching artists for VSA Minnesota for SAORI)
We are the SAORI authorized dealer for SAORI looms, books, and equipment.
Call and reserve a studio right now. 952-393-7985
SAORI Free-Style Weaving Studio "FUN" is an authorized SAORI looms and accessories dealer of SAKAI Seiki Sangyo Co. Ltd. Osaka, Japan.