Are you still Happy Weaving and Dyeing?
 Get Inspired!
33.8 fl oz.(1 liter) large pack Bengala Dyes are also available! 


Because of the exchange rate, Bengala Dye 3 color set is now $30/set if you purchase directly from Studio FUN.
DEBUT! Get Inspired by this NEW BENGALA INDIGO DYE!
ASK FOR DETAILS!
   3.4oz/100ml $24 .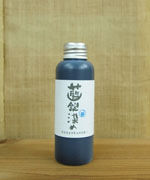 As known as Bengala Company, "Kosyokunobi" directly imports natural Indian Indigo from a manufacturer in South India. This high quality indigo is from "Indigofera Pseudotinctoria" which belongs to fabids. This indigo color has been created by all hand-processed from planting seeds to manufacturing.
You can enjoy this beautiful Indigo blue that has grew in a large field with getting lots of sunshine.
You can use this just like other Bengala Mud Dye colors. Yes, it's EASY. Please contact me for the details. Debut Price $20 till Dec. 31, 2015
We'll see you at the following events/festivals/classes!
**I'm happy to announce that I'll be working with all the students at the Blake School (in the Twin Cities, MN) as a resident artist next school year, 2015-16!
July 6-August 28 Textile Center Summer Camps (Chiaki will be teaching Week 2, 4, 7)
July 18(Sat) "The Great Makers Exchange"  at Swedish Institute in Minneapolis, MN
August 12-13 Michigan Fiber Festival in Allegan, MI
August 22 (Sat) Weave a Warp-Stenciled Scarf on a SAORI Loom at Weavers Guild of Minnesota
August 29 (Sat) Let's Try It! SAORI Weaving at Weavers Guild of Minnesota
September 12-13 Wisconsin Sheep and Wool Festival in Jefferson, WI
September 19-20 North Country Fiber Fair in Watertown, SD
====================================================================
                                                 

SAORI Brings Everyone SMILES! No experience needed. Just come and enjoy the process of weaving with your friends!! (from a Birthday Weaving Party)
=======================================================================
Studio FUN Offers:
Regular classes
Intensive courses
Birthday parties (Yes! There is a place to do fun Birthday parties in Carver County! Weaving party or Bengala party?)
Summer Camps / Seasonal events
Off-site workshops / demonstrations
Drop-in lessons (Trial)
SAORI instructor training
Artists in Residency (We are one of the teaching artists for VSA Minnesota for SAORI)
We are the SAORI authorized dealer for SAORI looms, books, and equipment.
Call and reserve a studio right now. 952-393-7985
SAORI Free-Style Weaving Studio "FUN" is an authorized SAORI looms and accessories dealer of SAKAI Seiki Sangyo Co. Ltd. Osaka, Japan.