SAORI and Bengala Dye Bring Everyone SMILES!
CONTACT: 952-393-7985/chiakiobrien@gmail.com
SAORI and Bengala Dye distributor in the U.S.
Would you like to try SAORI Weaving/Bengala Dyeing?
Please call or e-mail me for scheduling. I do off-sites (depends on the area) as well.
PLEASE WATCH!


Chiaki was featured on MN Original in Feb. 2017

Chiaki had a wonderful opportunity to share SAORI with the student at the Wellstone International High School in Sept. 2017.
Thank you for the Minneapolis Foundation for the support and the Minneapolis School District to find me! The Minneapolis Foundation's blog. http://www.minneapolisfoundation.org/still-in-high-school-but-making-commissioned-art/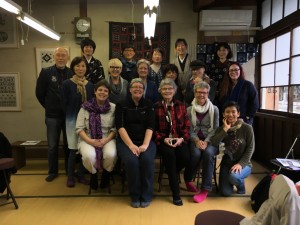 Nine people joined Chiaki who coordinated a Textile Tour in Japan, Oct. 2017.
Okayama, Kyoto and Osaka for 10 days, we took SAORI Weaving, Bengala Dye, Indigo Dye, Cotton spinning with Japanese wheels, Japanese Hemp Knotting, Japanese Calligraphy/brush painting. We enjoyed ourselves in Japan.
Thank you for participating me the tour and thank you for people who supported/welcomed us in Japan.
SAORI and Bengala Dye classes off-sites schedule  2017
Dec. 2 (Sat) SAORI @ Gale Woods Farm 1-4pm
Dec. 9(Sat) SAORI @ Arboretum 9-1pm (1 spot left)
Dec. 12(Tue) SAORI @ Weaves Guild of MN (FULL)
←Minnesota Life College SAORI students this semester.
"Mark, Robin, Sally and Mirit, clowning around and showing off their beautiful Saori weaving. What a great experience for our students to express themselves!" (from the school FB page)
================================================================
Studio FUN Offers:
Regular classes
Intensive courses
Birthday parties (Yes! There is a place to do fun Birthday parties in Carver County! Weaving party or Bengala party?)
Summer Camps / Seasonal events
Off-site workshops / demonstrations
Drop-in lessons (Trial)
SAORI instructor training
Artists in Residency (We are one of the teaching artists for VSA Minnesota for SAORI)
We are the SAORI authorized dealer for SAORI looms, books, and equipment.
Call and reserve a studio right now. 952-393-7985
SAORI Free-Style Weaving Studio "FUN" is an authorized SAORI looms and accessories dealer of SAKAI Seiki Sangyo Co. Ltd. Osaka, Japan.