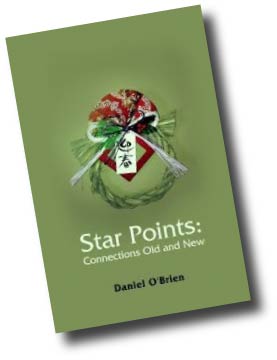 Studio FUN instructor Daniel O'Brien is also the author of the Japan Series, "Mysterious Stories Related to Japan." Book one is "Star Points: Connections Old and New." Find his titles at:
Bengala Dye Manufacturer
Kosyokunobi (Nakajima Co., Ltd. in Osaka, Japan)
SAORI Japan
SAORI no Mori—SAORI no Mori is in the woods. "Relax and Weave!"
NPO SAORI-HIROBA (VSA arts of Japan) 
SAORI Studios in North America
Minnesota
Atelier Fringe SAORI Free-Style Weaving
Massachusetts
SAORI Worcester
New York
Loop of the Loom -Weaving Arts-
Georgia
HanDen Studios: SAORI Weaving Peachtree City
SAORI Spirit
California
SAORI Studio LA -Weaving from the Heart
British Columbia
SAORI Salt Spring 
Please go to the SAORI Weaving Studio Directory to find a studio near you.
SAORI Global
Affiliated Organizations
VSA—The International organization on arts and disability
VSA of Minnesota—Dan and I are their teaching artists
Weavers Guild of Minnesota—Chiaki teaches SAORI and Bengala Dye
Textile Center (Minnesota)—National Center for Fiber Art
From Death to Life—Healing Weaving program
Mu Performing Arts–Chiaki is a Taiko (Japanese Drum) performer and Dan is taking Taiko student.
Tea Source–Chiaki teaches Gong Fu Style Tea